Sleater-Kinney – Words and Guitar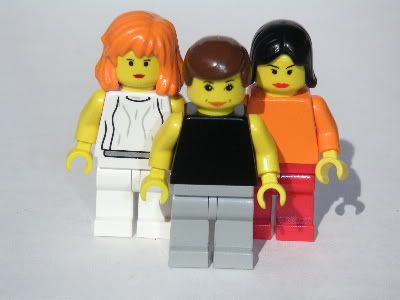 In deference to Sleater-Kinney's feminism, today's post will be vigorously gender neutral with no mention use of gender biased terms
There's only one way to go once you've been
turned into lego
. So it was a wise move for Sleater-Kinney to call it a day recently before Duplo and Weebles got involved and the whole affair became cheap and tawdry.
Sleater-Kinney were born when the Riot Grrrl movement was begin to die on its hairy rrrse. Both Sleater front-persons, Corin Tucker and Carrie Brownstein, had previously been in other Riot Grrrl bands. For their debut, self titled album they followed the feminist person-ifesto of the Riot Grrrl movement with a collection of man-hating, hectoring, didactic songs. (It was a pile of person-ure to be honest).
By the time of their third album,
Dig Me Out
, in 1997 they had dropped the hard-line feminist a-gender and, after a run of drummers that would make Spinal Tap spin in their spandex, had picked up Janet Weiss. Lyrics this time focussed less on male violation and more on rocking out (sample lyric: "
rock you till your good and dead/rock you till there's nothing left
"). A trend that they would continue until their final album
The Woods
which was regularly compared to Led 'The Shark Incident' Zeppelin.
Sleater-Kinney – Words and Guitar
Buy
Dig Me Out
Download Sleater-Kinney and many others on
Kill Rock Stars Records
Take
the Sleater-Kinney quiz