Swing Revival Pt.2: Cherry Poppin' Daddies – Zoot Suit Riot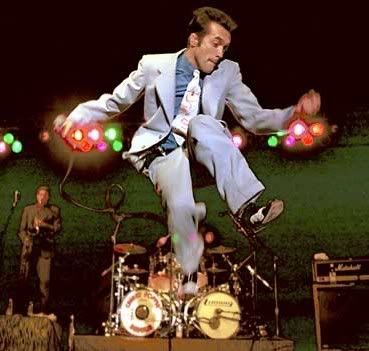 As you might have guessed by now, you were no-one unless you were someone's 'Daddy' during the swing revival.
The Cherry Poppin' Daddies had formed in 1989 and originally played a wide variety of styles. They had released a number of albums on independent labels to near universal disinterest. Their long awaited overnight success did not come until, with the swing revival taking off, they collected their more swing based material onto one album: 1997's
Zoot Suit Riot
.
The album, and its eponymous hit single, were named after a week long riot that occurred in LA in 1943. What had begun as a minor scuffle between a group of zoot suited Mexicans and a gang of military men over, what else, women rapidly escalated into a riot with army men attacking any Mexicans, including children, they could get their hands on. The riots became the first acts of violence named after clothing since the Battle of Balaclava.
The swing revival went in to overdrive in 1998 when The Gap used the big band classic
Jump, Jive and Wail
in their Lindy-hopping ad (watch it
here
). But, as the Lindy Hop regularly illustrates, what goes up must come down and swing music fell from grace as quickly as it had risen. The Finger Poppin's Daddies follow-up album,
Soul Caddy
, faired poorly – a fact The Daddies blamed on the record company (those bastards – releasing the record and selling it to people). This led to big Daddy Steve Perry leaving the humdrum, work-a-day world of international rock 'n' roll stardom to follow his crazy childhood dreams of attaining a degree in molecular biology.
Cherry Poppin' Daddies – Zoot Suit Riot
Buy
Zoot Suit Riot
Watch
the video
Watch
more Lindy Hoppers