Swing Revival Pt. 4: The Squirrel Nut Zippers - Hell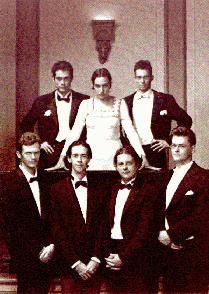 The swing revival brought with it a number of unusual acts such as the previously mentioned
Asylum Street Spankers
and The Squirrel Nut Zippers. Unlike many of the other swing revivalists The Zippers took their inspiration from the earlier hot jazz of the 1920's and could not be accused of being over-rehearsed.
The Squirrel Nut Zippers (named after the
retro sweets
) grew out of informal jams that head zippers Jim Mathus and Katherine Whalen held in their home with fellow hot jazz lovers. The band began playing a few gigs locally and were quickly signed and released their debut album,
The Inevitable
, in 1995.
Their breakthrough came in 1997 when their faux-calypso song
Hell
was picked up by MTV and became a novelty hit.
Squirrel Nut Zippers - Hell
Buy
Hot
Watch
the video