Swing Revival Pt.3: Royal Crown Review – Hey Pachuco!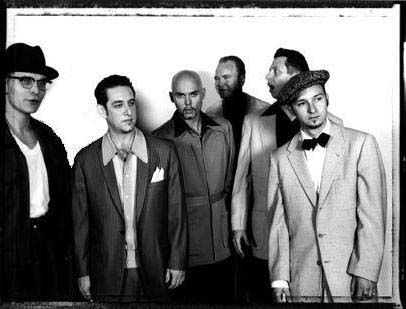 Royal Crown Review are the band most commonly cited as the originators of the Swing Revival. Certainly, they were the most dedicated. As well as aping the music and wearing the clothes they played pre-WW2 instruments, drove the cars, read the books and sat on the furniture. In a move that shocked many, the band also deliberately infected themselves with tuberculosis.
The band had formed in 1989 but really hit their stride during their two-year long residence at The Derby club in Hollywood beginning in 1993. The buzz created by these shows led directly to their performance of today's track in the film The Mask. Their Derby shows were also the inspiration for the dance scenes in Swingers.
In 1997 Royal Crown Review signed a major label deal (with Warner Brothers) and released a quick cash-in live album,
Caught in the Act
, featuring this version of
Hey Pachuco
.
Royal Crown Review – Hey Pachuco
Buy
Caught In The Act: Live