Andrew Bird – Oh So Insistent.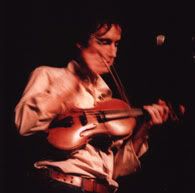 A person with a fine and pure heart will find love. Dr. Shinichi Suzuki
Most music scenes end up dragging along a few unwilling participants whose music stretches far beyond the constricts of the fad. Such was the case with Andrew Bird.
Bird began his career playing fiddle extensively with The Squirrel Nut Zippers (although he was never formerly a member of the group). However, his influences and virtuosity quickly saw him venture far beyond the confines of swing music as was demonstrated on his 1997 album
Music of Hair
.
Bird's virtuosity is usually ascribed to his training under the
Suzuki Method
. Suzuki classes begin at age 5, have a strict repertoire for students to follow and are told to, "only practice on the days you eat," - a philosophy that explains why Victoria Beckham never learnt to sing. Despite the insistence on hard work, the Suzuki method is cutesier than a skip full of cross-eyed kittens and asserts that the most important ingredient in music really is love.
After his stint with The Squirrel Nut Zippers, Bird was inevitably eager to stretch his legs stylistically; which he certainly did on
Music of Hair
. The record is split into three distinct genres.
Oh So Insistent
, with its heavy debt to Klezmer, comes from the North American section.
Bird has spent most of his career being a little embarrassed by
Music of Hair
as it was only later that he developed his own, distinct sound. However, the obvious enjoyment with which he launches himself into the various styles makes it easily my favourite of his.
Andrew Bird – Oh So Insistent
Buy
Music of Hair on iTunes