Junior Kimbrough – Lonesome Road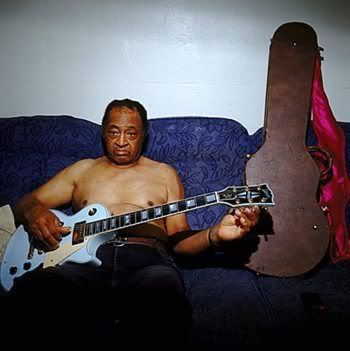 There are only two types of modern blues records: those released on Fat Possum and those that suck.
Kimbrough's story is so similar to T-Model Ford's I was tempted to cut and paste last week's entry. Born into a poor Mississippi family; alcohol induced coma at age 6; father of 36 children; a life of obscurity until picked up by Fat Possum late in life.
Kimbrough was in fact the first act signed by Fat Possum. He came to the attention of fattest possum Matthew Johnson after appearing in the film
Deep Blues
. His first album
All Night Long
brought him great admiration from blues aficionados. At this point he was too ill to tour so a steady stream of fans made their way to Mississippi including U2, The Rolling Stones and Iggy Pop.
By the time of 1997's
Most Things Haven't Worked Out
Kimbrough's suffering had worsened and would finally take his life in 1998. Despite this he still sounds in fine fettle.
Since his death, Kimbrough's fame has spread thanks to
a tribute album
featuring The Black Keys and
a tribute album
by The Black Keys.
Junior Kimbrough – Lonesome Road
Buy
Most Things Haven't Worked Out