The Neckbones – Hit Me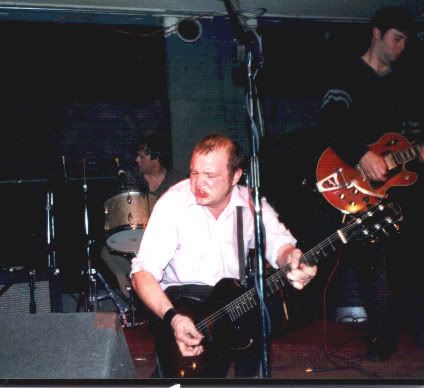 The jawbone's connected to the skullbone,
The skullbone's connected to the neckbone,
The Neckbones connected to the tradition of stark, hardhitting music from the Mississippi region
Although Fat Possum are largely, and rightly, known for releasing records by old, black blues musicians such as T-Model Ford and Junior Kimbrough they occasionally sign young white kids to much greater financial reward (e.g. Black Keys and Fiery Furnaces). However, sometimes even white kids can't sell records.
The recording of The Neckbones' 1997 album
Soul On Fire
did not go smoothly. During sessions singer/guitarist Tyler Keith had to be rushed to hospital with a swollen liver. Whilst there bassist Robbie Alexander got his arm stuck, Homer Simpson style, inside a cigarette vending machine. He was sawn out by the fire brigade some 2 hours later.
You wouldn't know it by the number of factual inaccuracies but I do actually do some research for this blog. During my travels I read the strangest bio of The Neckbones on
Fat Possum
. It contains exactly no information about the band but extensive, lurid, vomit-inducing detail on the acts the writer would like to perform on the
Souls On Fire
cover girl. Luckily, it's rescued by the pay-off line, "I am the only one who knows that she now has the demon spawn in her womb."
The Neckbones – Hit Me
Buy
Souls On Fire
In Other News
Tonight, BBC2, 2110,
The Summer of… 1997
.
Almost certain to contain extensive coverage of the high-jinx of obscure US punks.