Swing Revival Pt.1: Big Bad Voodoo Daddies – Go Daddy-O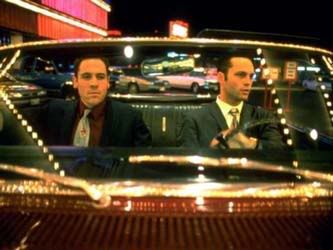 We are so money.Vegas, baby. Vegas!
The film
Swingers
has inspired more idiots to throw quotes round than anything since Monty Python hung up their wellies.
Swingers
, written by its star Jon Favreau, was made on a miniscule budget (and it shows) but thanks to its wit, catchphrases and swinging soundtrack it gained a cult following and influenced mainstream culture (musically and lexicographically) far beyond those who actually watched it.
Swingers
focuses on a group of wannabe actors in LA led by Vince Vaughn's Trent who attempts to cheer up the recently singled Mike (Favreau) by taking him to Vegas to 'kick it old school' and get him laid. Cue cringe-making scenes of desperate attempts to impress girls and a classic answer-phone message scene (watch it
here
). Despite the film's nominal focus, it is essentially a buddy flick; the guys spend far more time talking to each other – when they are much more loveable - than chatting up women .
What really marks
Swingers
out is its charting of the, then height of hip, 'cocktail nation' scene – giving the film its own style, sound and language. 'Cocktail nation' married the dancing and big band music of the 1930's and 40's with the style and hedonism of the 50's Rat Pack. The scene was no doubt a reaction against the tatty clothing and depressed nihilism of the early 90's grunge fad. However, it never really took off in the UK. Perhaps because the 30's and 40's weren't so swinging for us or, more likely, because we're a bunch of miserable scruff bags.
The redemptive end to the film has Favreau and co-star and former girlfriend Heather Graham dancing in a club to a lively performance of this song by the Big Bad Voodoo Daddies. The film helped swing music move from an underground LA cool towards mainstream popularity – but not as much as a certain ad did.
Quick tip: if you're looking for images from the film "Swingers" on Google:
turn the safe search on first.
Big Bad Voodoo Daddies – Go Daddy-O
Buy
Swingers
Watch
the trailer