Ben Folds Five – Battle of Who Could Care Less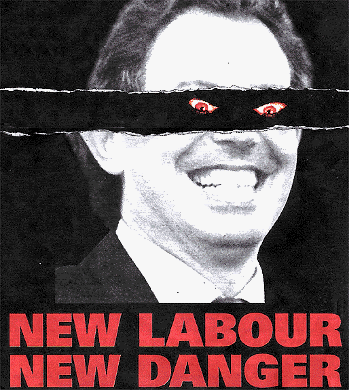 By 1997 Britpop and its attendant Cool Britannia culture had died on its hairy, sweaty arse. It was, therefore, time for politicians to jump on the bandwagon.
The campaign of the rebranded 'New' Labour focussed on modernity and Britishness. This came to the fore with the use of a Bulldog in one of their party election broadcasts. However, to avoid offending the delicate sensibilities of Middle England, the dog's testicles had to be airbrushed out. If only the bollocks had been removed from the campaign itself.
The Tories chose to go down the anti-Blair route displaying an uncharacteristic prescience with their 'demon eyes' Blair poster. However, their broadcasts were less successful. They featured images from a distopian vision of Britain under a Labour government which looked remarkably similar to Britain under the Tories. The only pop music used by the Tories in the campaign was Phil Collins'
In The Air Tonight
. Perhaps in an attempt to conjure up their mid-80's glory days. Although it's much more likely they were just heroically out of touch.
The Labour Party were slightly more up to date chosing
Things Can Only Get Better
by the inexplicably coloned D:Ream for their theme but the real anthem of the election blasting out the radio was Ben Folds Five's
Battle of Who Could Care Less
. Turnout for the election was 71%, the lowest since 1935. Labour declared a landslide victory despite only receiving 42% of the vote (around 30% of all eligible voters).
Ben Folds Five – Battle of Who Could Care Less.
Whatever and Ever Amen