CAKE – The Distance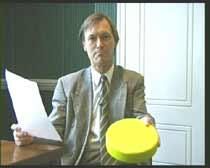 1997 saw a concerted campaign to keep kids away from the drug that was scything down members of Prague's 'Boon rave' culture. Cake, also known as 'Russell Dust', 'Loony Toad Quack' and 'Hattie Jacques' Pretentious Cheese Wog', is a bi-sterbile cradabolic anphetamoid which acts on the Shatner's Bassoon region of the brain causing such known side effects as vomiting out one's own pelvis, crying all the water out of one's body and 'Czech Neck'. News that the drug was on its way to the UK caused an outcry; opposition groups were set up, high profile names such as Noel Edmonds, Bernard Manning and Bruno Brookes implored the youth to stay away, and questions were asked in parliament (
read Hansard
).
Thankfully, the feared Cake epidemic failed to materialise. This was largely thanks to the fact that it was made up my media-prankster Chris Morris for the show
Brass Eye
. Morris first came to wide attention on the radio, and later TV, spoof news show
The Day Today
. He took the elements of parody of the clichéd self importance of news and stretched it even further with
Brass Eye
. In particular, he received a great deal of publicity, positive and negative, for conning C-list, rent-a-gob celebrities and politicians into supporting non-existent causes. Most amusing of all was convincing Paul Daniels and Carla Lane to speak out against a zoo that had allowed an elephant's trunk to get stuck up its rectum.
The first and only series was originally intended for broadcast in 1996. However, the series had been held back due to the inclusion of a sketch about a musical version of the life of the Yorkshire Ripper Peter Sutcliffe. A de-Sutcliffed version was finally broadcast in 1997 with other material taken out but with the addition of a highly unflattering subliminal message about Channel 4 controller Michael Grade.
The band CAKE, with their jaunty riffs and catchy melodies, were much less like to make anyone vomit out their own pelvis. CAKE have been going since 1992 but only once entered British consciousness; with the melancholy but fun
The Distance
.
CAKE – The Distance
Buy
Brass Eye
Buy
Fashion Nugget