Matthew Barney – Cremaster 5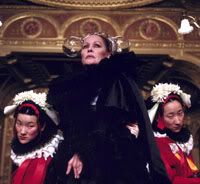 Video art was also the all the rage in the US in 1997. However, not for the Americans the understated subtlety of a bunch of motionless bobbies. Instead Matthew Barney, whose previous work includes gym equipment covered in Vaseline, gave us a sprawling, baroque epic called
The Cremaster Cycle
. This contains five feature length films telling the story, according to experts, of the moment in embryonic development when the sex of the baby is determined. (N.B. the cremaster muscle raises and lowers the testicles – gory picure
here
- I hope that information never comes in handy).
1997 saw the release of climax of the series. The fifth film features Barney leaping around the Hungarian State Opera house in various guises and Ursula Andress singing with a pair of large glass testicles on her head (not likely to replace the swimsuit image in the public's affections). I'm sure it all makes sense when you see it – which I haven't.
If you're eager to buy a DVD of this you best get on eBay. Only ten copies of each film were made and you can expect to pay around $400,000 for one. Or, if you're not Charles Saachi, you could just rent
Weekend at Bernie's
again. Failing that you could watch one of the other sprawling epics of 1997 such as
Titanic
or Kevin Costner's legendary winner of five
Raspberry Awards
The Postman
.
Visit
The Cremaster