Martin Simpson – Rose of Allandale.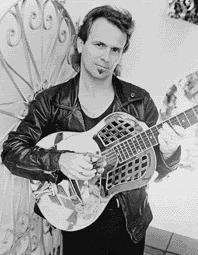 With all the fraught excess of the festive period over I thought I'd go easy on your ears with this gentle instrumental by English folk guitar legend Martin Simpson.
Simpson was part of the second wave of the English folk revival. Growing up he had been heavily influenced by the guitarists of the 60's folk boom such as Davey Graham and Martin Carthy.
Simpson's big break came when Barbara '
I Know Him So Well
' Dickson dragged folk impresario Bill Leader (who had a hand in the careers of Bert Jansch, Davey Graham and Dick Gaughan among many others) to one of his gigs. Leader rapidly snapped him up for his record label, produced Simpson's debut album and set him up as the accompanist of folk grande dame June Tabor. Since then he has gone on to collaborate with a number of musicians as far flung as Madagascar's Tarika Sammy and Chinese Pipa player of the famous Pudong School Wu Man (
how dare you accuse me of making it up
). He also, unadvisedly in my opinion, decided to start singing himself. However, for his 1997 album
Cool and Unusual
he decided to go all instrumental and roped in more high quality collaborators (including the aforementioned
Kelly Joe Phelps
).
Today's song,
Rose of Allandale
, is a sweet love song (read one version of the lyrics
here
) geographically located in Scotland but often sung throughout all the British Isles.
Rose of Allandale
also formed part of the set for the Four Martins tour; a collection of four fingerpicking guitarists all called Martin (Simpson, Carthy, Taylor and Flamencist Juan Martin). If they decided to get together again you HAVE TO go and see it. It features all the dazzling fret-board wizardry and shameless showboating you could ever need.
Martin Simpson – Rose of Allandale
Buy
Cool and Unusual
In Other News
WL97 has made the press page of
The Sherwood Consort's site
despite describing them as, "a Medieval Baebes for those who don't mind ugly people."
And can someone keep a copy of this entry so the OED can trace the origins of the entirely unnecessary word 'flamencist' (
flä-meng'kist
one who plays flamenco).