Festive Fifty #5: Belle and Sebastian – Lazy Line Painter Jane.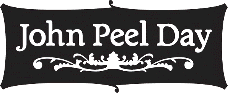 For a bunch of nose-bleeding bed-wetters Belle and Sebastian got off to a surprisingly aggressive start in their career. In 1996 they formed, were signed by Jeepster and released two albums (the eBay favourite
Tigermilk
and
If You're Feeling Sinister
).
They didn't let up much on the pace in 1997 releasing a series of EPs. Without doubt the best track on these was
Lazy Line Painter Jane
(now available on the
Push Barman to Open Old Wounds
compilation). The song showcases an echo-y surf guitar and the voice of Monica Queen (the lead singer of THRUM who had been described as sounding like 'Tammy Wynette with a hard on').All that and educational too (I didn't know you could get thrush from licking railings).
No track again I'm afraid – more techy problems. Double bugger, bugger it sideways and one more bugger for the hotel room.
Buy
Push Barman to Open Old Wounds
Read
all the 1997 Peel sessions
.