Kate Rusby – Bold Riley.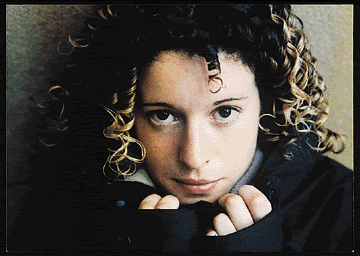 I'm surprised I managed to last this long without indulging my passion for English folk music and posting some 'finger-in-the-ear' music (opposed to the 'fingers-in-both-ears' music I post most weeks). It has been a long held dream of mine to play banjo with Eliza Carthy and fiddle with Kate Rusby.
Although Rusby's 1997 album
Hourglass
, from which today's track comes, was her debut she had already had already established herself on the folk scene. Along with Kathryn Roberts, she was part of folk's answer to Destiny's Child (not that anyone had asked the question). She was also a member of folk supergroup Equation whose members have included recent Mercury Prize nominee Seth Lakeman and Irish nymph Cara Dillon (there's a Rock Family Tree to be made of that band).
However, Rusby left Equation after the band were approached by a major label who wanted them to move in a more commercial direction. She decided to go solo, set up her own record label and make an album with her, musical and life, partner John McCusker and a bevy of talented, young folk musicians.
Bold Riley
is a traditional sea shanty. It is, to get a bit geeky about it, a Halyard Shanty and was used when sailors raised and lowered the sails – pulling on the chorus and resting on the verse. Rusby turns it from a gruff work-song into a melancholy ballad with accordion accompaniment (c/o Andy Cutting) – a trick she repeated on her follow-up album
Sleepless
with the track
The Wildgoose
.
It was with
Sleepless
that Rusby began to be noticed outside the folk scene and was nominated for the Mercury Music Prize – shamefully losing out to Talvin Singh's aptly named
OK
.
Kate Rusby – Bold Riley
Buy
Kate Rusby mp3s
View
My half hearted, less than comprehensive attempt at an Equation family tree
In case you were wondering, White Stocking Day was a sailors payday. Once back in port the sailors female relatives would dress in their finery (including white stockings) and collect the money.