Spice Girls – Spiceworld.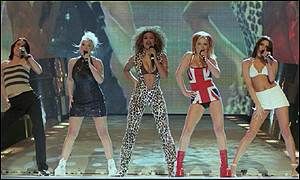 Writing his autobiography wasn't nearly enough to keep Stephen Fry busy in 1997. He also found the time to star in two hit films. In one he bowed to the inevitable and played the literary, witty, gay, polymath and all round smarty-pants Oscar Wilde. In the other he bowed to the regrettable and appeared in
Spiceworld – The Movie
. On the upside he did have the only amusing line in the film: "Send in Hootie and the Blowfish". There you go, I've ruined it for you now.
I suppose you're wondering why I didn't post last week. You probably think I spent the week lazing around the woodshed, sipping drambuie and licking tiramisu off assorted comely wenches. You'd be wrong. I spent the whole of last week devising an argument as to why, contrary to appearances, The Spice Girls were not a bunch of talent-less, pan-faced bints. Unfortunately, no amount of clever circumlocution can get around the fact they were a bunch of talent-less pan-faced bints.
Luckily, the end of 1997 saw the beginning of the downturn for The Spices. But before the downturn you have to hit a pinnacle and that pinnacle was the 1997 Brit Awards. That night they became icons, largely thanks to the Union Jack dress worn by Geri (rechristened Ginger despite previous glamour photos providing ample evidence to the contrary). It didn't hurt that while collecting their awards Geri's boob fell out and Sporty offered Liam Gallagher out for a fight.
Shortly before the release of
Spiceworld
(on Boxing Day) they decided to fire their svengali manager Simon Fuller and, temporarily at least, take on managerial duties themselves. Many people point to this as the beginning of the end for The Spice Girls. Their next release,
Stop
in February 1998, was the first not to top the UK chart. 1998 also saw Halliwell leave the group and become a goodwill ambassador to the United Nations Population Fund in the same year (I'm still not sure that actually happened).
Do you really want me to upload a Spice Girls song? Really?
Buy
Spiceworld – The Movie