OK Computer Week: Maroon – The Tourist.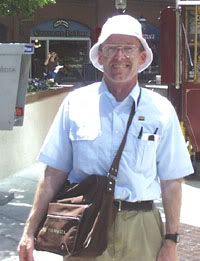 Radiohead's musical complexity, critical acclaim and commercial success make them the number one choice for jazzers looking to shift a few units. Luckily, this track is a cut above the Jamie Cullum/Michael Bublè types.
Maroon were formed in Brooklyn in 2000 by singer Hillary Maroon and pianist Benny Lackner. These core members are joined by a number of musicians from New York's avant-garde scene – most notably guitarist Marc Ribot (Elvis Costello, Tom Waits, Lounge Lizards). They cover many contemporary rock songs (including an interesting version of Soundgarden's Black Hole Sun) and make a good job of it by avoiding changing them into Brat Pack style jazz songs – keeping more in tune with the original while bringing their own sound to it.
This version of The Tourist manages to be even slower and more languid than the original perfect for a Sunday morning hangover. What makes it less relaxing to me is the association it has in my mind with the hoax 9/11
tourist guy photo
. Even though it's an obvious fake it's a memorable and shocking image.
Maroon – The Tourist
Unfortunately, this mp3 cuts out after about 5 minutes. If you want the whole thing you'll have to buy it.
Who the Sky Betrays doesn't seem to be available in the UK try visiting
Head Fulla Brains
to order it.