Kate Rogers – Climbing Up The Walls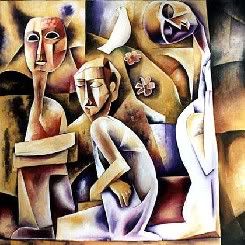 Climbing Up The Walls by Timothy McConnachie
There aren't many Radiohead songs that you could describe as being sexy but this is one of them. Its sound owes a great deal to acts like Tricky and Portishead.
Kate Rogers made her name singing with Aim (on Sail and Girl Who Fell Through the Ice) and with Rae and Christian (on Not Just Anybody). The fact she is cousin to Rae and Christian member and Grand Central Records honcho Mark Rae is entirely coincidental.
Every review of Rogers' debut album, St Eustacia, used that most hideous of four letter words – Dido. Rogers' music is certainly in a similar vein and Dido also started her career singing in a relative's dance band (brother Rollo's band Faithless). But to be fair to Rogers, unlike Dido, she does have more character than a soggy draining board. She also has some high quality influences judging by the songs she has chosen on her recently released covers album, Seconds. Tracks include Big Mouth Strikes Again, Here Comes Your Man and – erm – Green Day's Brain Stew. She even manages to make a decent attempt covering one of my favourite Radiohead songs.
The consensus opinion
is that this song is about mental illness. I always thought it was about Thom Yorke's penis and his repressed desires (feel free to leave a comment; I'd love to know your opinions on the matter). I'm often wrong about these things but my interpretation of this song added an extra dimension to hearing a woman sing it.
Kate Rogers – Climbing Up The Walls
Buy
Seconds