OK Computer Week: The Mountain Goats – No Surprises.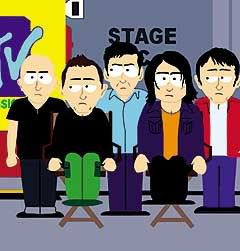 The Mountain Goats are one of the most determinedly lo-fi bands in existence. Most of their songs sound like they were recorded down a phone line – which was actually the case in a session recorded for WELH. The rest of their songs are recorded onto tape via a boom box. For many years they only released songs on tape.
The Mountain Goats is effectively singer/songwriter/guitarist John Darnielle. He is an unbelievably prolific songwriter. Bob Dylan is praised for never playing a song the same way twice; Darnielle rarely plays the same song twice. This can lead to a hit and miss catalogue but when he hits the spot, he really hits the spot. I'm particularly fond of his tales of youth and young manhood such as Dance Music, The Best Ever Death Metal Band Out Of Denton and Fall of the Star High School Running Back. He deserves and award just for the lines like "Selling acid was a bad idea/Selling it to a cop was a worse one" and "The best ever death metal band out of Denton/Never settled on a name/But the top three contenders, after weeks of debate/Were Satan's Fingers and The Killers and The Hospital Bombers".
This song was recorded for WFMU in 2000. You can hear the entire session along with the WELH phone session and a cracking Peel session
here
. It's a straight forward, strumalong-a-Radiohead version of the song – which is only fitting for a song called No Surprises.
The Mountain Goats – No Surprises
via
so this is what the volume knob's for
Visit
themountaingoats.net
Totally Fuzzy
has posted a link to
these acoustic Radiohead songs
including a version of Karma Police.