Crazy Frog/The Frogs
While the likes of Radiohead and The Verve were stunning the world with their magnum (opuseses? opii? *reaches for dictionary*) opera (that can't be right) a 17 year old Swede called Daniel Malmdahl decided to imitate his friends' mopeds and post the results on the net.
Yes, Crazy Frog was born in 1997. Frogs have a lifespan of around 15 years.
Crazy Frog – Axel F
(a mercifully brief clip)
Hear
the originator himself
.
Sign
a petition against the Crazy Frog
.
Buy
Axel F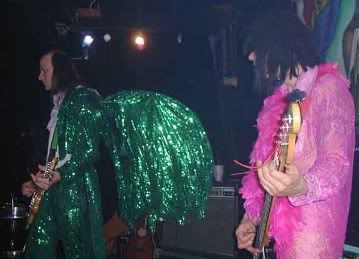 But the Crazy Frog wasn't the only frog related weirdness in 1997.
The Frogs, consisting of brothers Jimmy and Dennis Flemion, have set themselves the task of offending as many people as possible as much as possible whilst wearing six-foot wide green bat wings.
On their debut LP they set themselves up as the heads of the 'gay supremacist' movement.
Racially Yours
saw them blacking-up and singing racist lyrics in a minstrel pastiche – their record label refused to release it.
My Daughter the Broad
contains some hilariously offensive song titles (
see for yourself
).
However, in 1997 they were in a rather relaxed mood on the Billy Corgan produced Starjob EP (now out of print) and restricted themselves to poking fun at Nirvana.
You can hear a session version of
I Only Play for Money
, as well as a huge number of other oddities, on
WFMU's On The Download
.
The Frogs – I Only Play for the Money
via
WFMU's On The Download