Perfect Day - A number one from far too many people...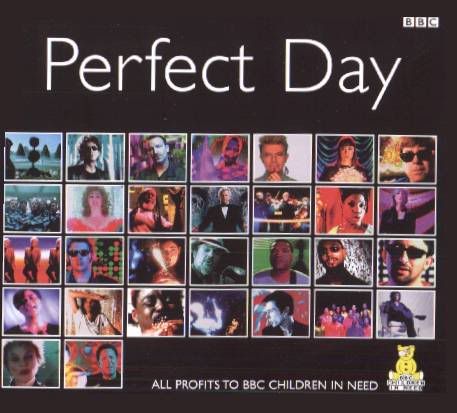 In 1997, a worryingly large list of people took a previously released song,
Perfect Day
, made it a charity single, and propelled it to the top of the UK charts. These people were:
(In alphabetical order)
-
The BBC Symphony Orchestra
- Bono
- Boyzone
- Brett Anderson (of Suede)
- Brodsky Quartet
- Burning Spear
- Courtney Pine
- David Bowie
- Dr John
- Elton John
- Emmylou Harris
- Evan Dando (of Lemonheads)
- Gabrielle
- Heather Small (of M People)
- Huey (of Fun Loving Criminals)
- Ian Broudie (of the Lightning Seeds)
- Joan Armatrading
- Laurie Anderson
- Lesley Garrett
- Lou Reed
- Robert Cray
- Shane MacGowan
- Sheona White
- Skye (of Morcheeba)
- Suzanne Vega
- Tammy Wynette
- Thomas Allen
- Tom Jones
- Visual Ministry Choir
That's 29 separate acts. God knows how many people that is in total. However, it would appear to have worked, as it went straight to #1 on the 29th November 1997. It was there for two weeks before being knocked off the top-spot for a while. However, it went back for another bite of the cherry when, on the 10th January 1998, it decided to have another week up there.
I like this song very much. It's a novel idea to take a song like this, various musical artists of various 'fame levels' all singing a different line or two. And this is how I must criticise the song. Some of the people don't sing this song all that well. One that is probably most noticible is the late Tammy Wynette. Her line 'Weekenders on our own' just isn't delievered right. She kind of squashes the whole line into the space of one word, and it's hardly audiable. However, the majority of the 'cast' work really well together. Voices that stand out to me on this track include Morcheeba's Skye, David Bowie and Emmylou Harris, all of whom deliver their lines with aplomb. Indeed, I would have liked to have heard more from Skye than her meagre 'We go home...'.
All in all, I would say that this song is a very good listen. It doesn't sound dated, and the some of the slightly more obscure aritsts chosen do not detract from it at all.
It's a shame there aren't more songs in this style available today...
3.99/5
**
You can download this song
here
. However, it is only intended as a
preview,
and so will only be available for a limited period, and you should delete this song after 24 hours, otherwise we'll get in trouble! If you are affilated with any of the artists performing on this track and you don't want people to download it, I would be happy to remove it.
**
PS - Apologies for the huuuuuuge picture - it's the only way I can show you all the lovely people who made this song happen!